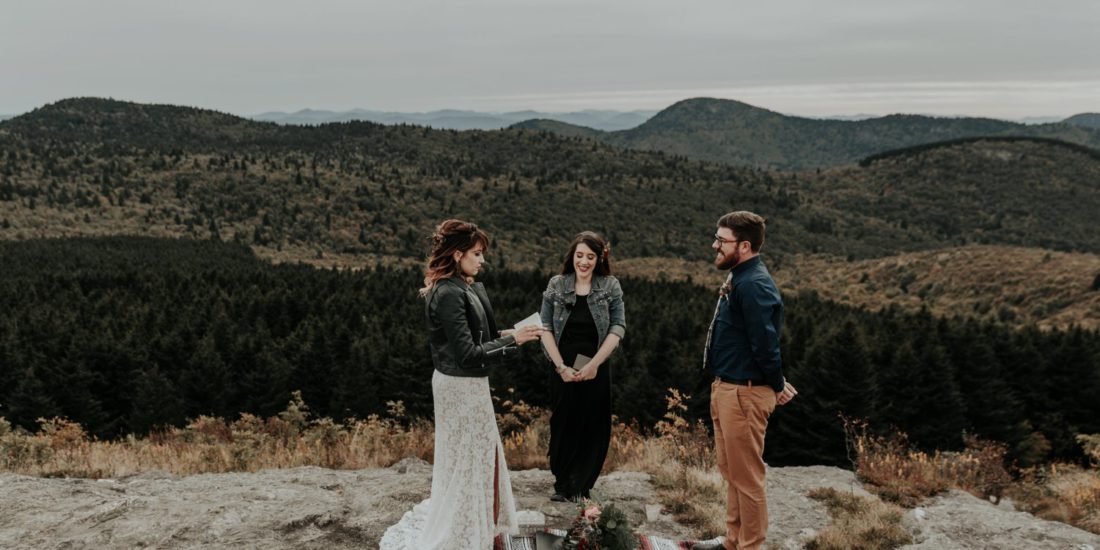 Kat + Rich's Black Balsam Knob Elopement / September 2017
Holy wow! I'm not quite sure I have the words to adequately express how special this elopement was. I met Kat and Rich a few months before their elopement at Wedge Brewery in Asheville and I fell in love with them immediately! I was elated when they booked and looked forward to this day for months! My connection with these two was certainly made in the stars and I'm so grateful we were guided to cross paths in this life.
Their love, the words they spoke to one another during their ceremony, and their heartfelt kindness left me breathless and inspired. I believe so deeply in true love being such a huge factor in healing humanity and Kat and Rich are a top-notch example of what we need. More love. More laughter. More compassion. More acceptance. More of all the good stuff. More togetherness through all the hard stuff. More support…. I could go on… 😉
The day finally arrived and I met up with Kat at the makeup studio of Ali Lawless where Kat was done up and zipped into her beautiful gown. Kat's cousin was there to help with the getting ready process and also acted as the officiant, which was really special!
We then drove up the mountain to Black Balsam Knob off the Blue Ridge Parkway near Asheville.
We arrived to find Kathryn and Ian of Evergreen Era Films already there and ready for the first look.
We were all so excited! It was mid-September but it was chilly up on the mountaintop that day but that just added to the excitement really. What ensued was a beautiful union of souls based in true love. I definitely cried as they spoke their insanely beautiful words to one another. Truly so touching. I hope to always remember their love and allow it to inspire and serve as a reminder for me.
Words can only say so much, so enjoy their story depicted through my photographs…
Hair + MakeUp: Ali Lawless of AnaRie
Videography: Evergreen Era Films