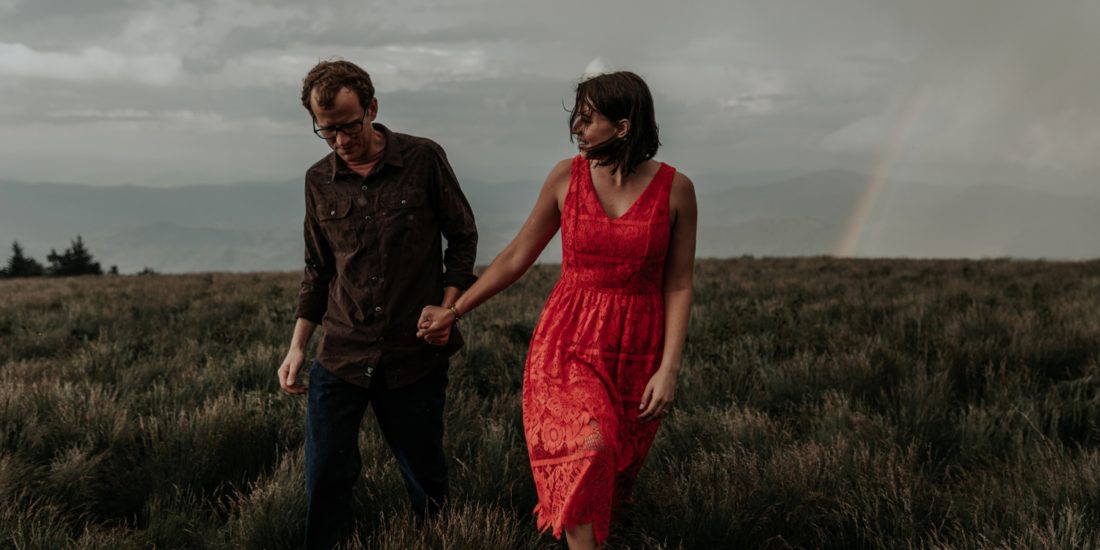 Kelsey and Jordan / Roan Mountain, Tennessee / June 2017
To celebrate their sixth wedding anniversary Kelsey and Jordan booked me for an adventure session. Kelsey found me on Instagram and we made our plans! They chose Carver's Gap at Roan Mountain State Park. It was a warm day in June, the rhododendrons were in full bloom and it was truly a sight to behold! We met in the late afternoon and began our hike up the mountain. When we reached the top the clouds took over and it began to rain! We waited out the passing shower under the cover of pines, they popped a bottle of champagne and we all had a glass while laughing and sharing stories. At last, the clouds parted way just enough to reveal a perfectly faint rainbow! We jumped up and took full advantage of this beautiful moment, feeling so grateful for this mountaintop and our positive outlook that the clouds will always part. It was really special!
To our delight, the sunset also made the most epic appearance. We danced and ran around the in the tall wet grass, soaking in every ounce of this magic offering. Nature truly delivers everything that we need. I believe this deep in my bones and hold that thought close when I need it most.
||| All in perfect timing |||
In the months after their session, Kelsey + Jordan have grown to be my friends. We meet up for tacos and talk about life in all of it's wondrous and mysterious ways. The last time we met, Kelsey and I were dressed almost identically and we both wore a necklace which held a preserved dandelion… I mean, talk about a meant to be friendship! I'm so grateful for this friendship and these memories we were able to create together.
They also saw a fox on the way home from the session, after Kelsey told us how she'd never seen one! Again… it's all so meant to be!
Kelsey is also an amazing photographer, check her work out here, kelseycrowe.com.
Enjoy this adventure…