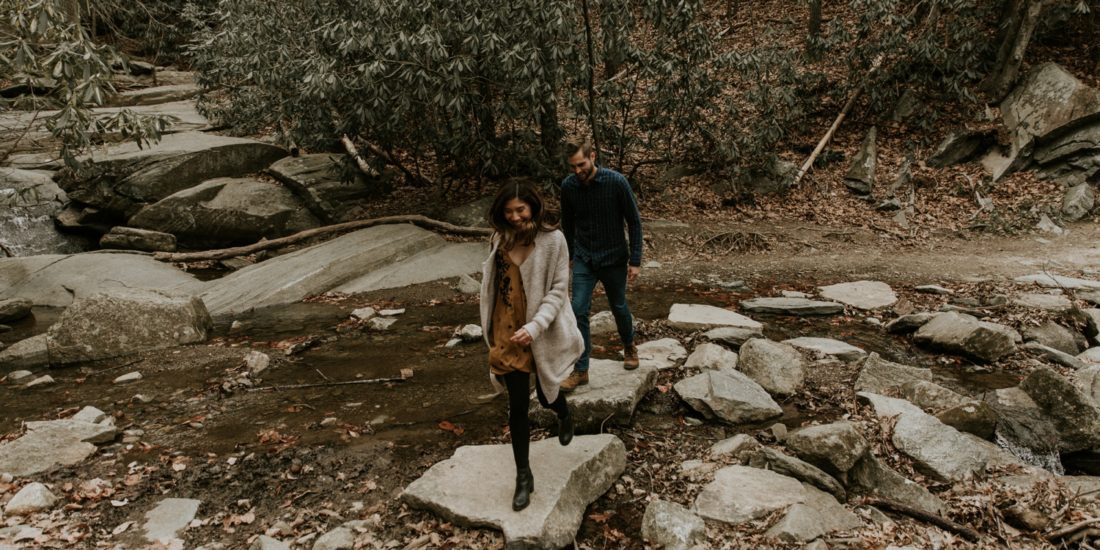 Melanie + Eric // Catawaba Falls Engagement Session
I had this waterfall on my bucket list for quite some time and Melanie and Eric were excited to check it out during their engagement session in March. We had never been here before so we really didn't know what to expect. The internet told us that there were two main falls, upper and lower. The upper falls required some serious climbing using ropes, something I'm always happy to do! We made it to the lower falls and immediately saw people coming from the top exclaiming how "it was so worth it!!"… so we set out! Melanie climbed the steep rocks in her less than optimal, yet adorable, booties like a trooper! We reached the top and walked until we found this incredible waterfall, in complete solitude!
We were all so delighted and in awe of this inspiring scene.
I allow my couples to interact naturally without posing. I find this produces the perfect situation to capture really authentic and heartfelt moments. I know it's uncomfortable to be in front of the camera so I guide my couples into those natural states with ideas I've created over the years, things I know really work! This entire session was shot in an unposed way, as are all of my sessions. I love this because it allows the couple to truly shine through without stiffness or awkwardness.
Melanie and Eric are getting married in the Asheville area in November and I simply cannot wait!